Page 17 Reflects EMI Records History In The Making
While Other Record Labels Struggled to Achieve Marginal Hits...
One of the most convincing success stories for the EMI label took place in Minneapolis when an American exchange student returned home from his studies in Sweden. Upon returning he brought with him his favorite record that he'd heard over the airwaves there when he decided to visit the Minneapolis radio station, KDWB, and share his song with the programming staff. The name of the song was, "The Look" by Swedish duo ROXETTE when the station decided to give it a spin to test it's hit status. That's when the station's request line lit-up like a Christmas tree with overwhelming response while the popularity of the song gained the attenion of the EMI's home office in New York. That's when ROXETTE was immediately signed to a worldwide record deal and the single was rush released in the U.S to accommodate it's rapid spread of popularity. "The Look" became their first No. #1 record in the U.S. and a breakthrough internationally. Those stories and others that are featured on this page are what makes the EMI label so special.
Roxette's first U.S. album release 'Look Sharp!' featured the monster hit single, "The Look" along with the chart toppers, "Dressed for Success," "Listen to Your Heart" and fourth single, "Dangerous." Now, 20 years afterwards and well into the 21st Century those songs are still prominently featured in the music world.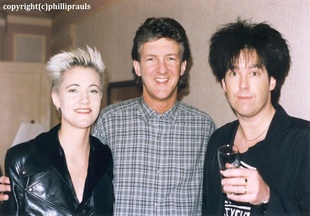 Sweden's super duo Roxette featured the charming Marie Fredriksson (L) and Per Gessle (R). Standing center is EMI's Phillip Rauls as they pause for a photo at an industry function.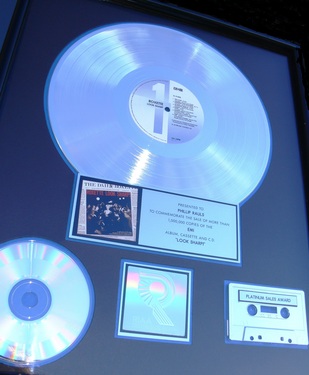 Framed copys of Roxette's multi-platinum "Look Sharp" album were awarded to those who were influential in helping build the groups success.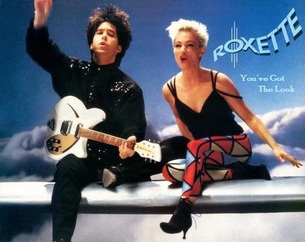 Guitarist Per Gessle sharred vocal parts while lead singer Marie Fredriksson's voice blanketed the pop charts while being programed on several radio formats plus video giant MTV's coverage and numerous video channels around the globe.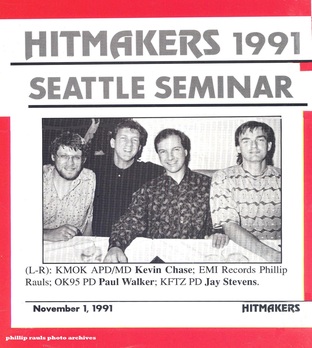 Hitmakers Magazine displays a cozy picture of members of the Northwest Radio & Record commumity in their November 1991 spread of a seminar held in Seattle.
Disk Jockeys love to play Roxette's easy to program music. Every time a new Roxette song was released, radio stations immediately put their record on the air as telephone requests and record sales reflected their huge popularity.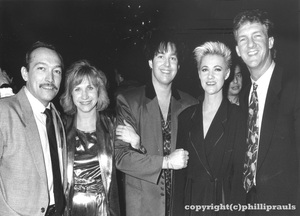 Key radio support was essential in building Roxette's all important fan base. Pictured here are (L-R) Mark Todd-KRQQ Tucson, Connie Breeze-KKRZ Portland, Per Gessle & Marie Fredriksson of Roxette and EMI's Phillip Rauls.
"It seemed like the days of wine and roses were upon us as years of strong focus and hard work were finally paying off" says Phillip Rauls.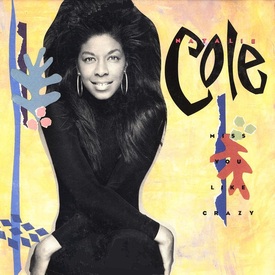 Natalie Cole's "Miss You Like Crazy" was her 5th top ten release to hit the Billboard pop chart. Released in 1989 on EMI Records, Ms. Cole's career had experienced a complete turn-around as this single peaked at # 7.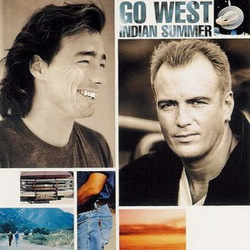 "The King Of Wishful Thinking" by Go West was a big hit for the two handsome Brits. Their song was featured in the hit movie soundtrack of "Pretty Woman" staring Richard Gere and Julia Roberts. Go West members Peter Cox and Martin Page co-wrote the hit single that peaked on Billboard's Hot 100 chart at number # 8.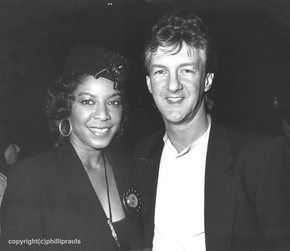 Excellent material and production combined with outstanding promotion and marketing help revise a singer's career. Pictured here (L-R) Natalie Cole and EMI's NW Promotion Manager Phillip Rauls.
PAGE UNDER CONSTRUCTION - PLEASE RETURN LATER