Several Decades of Classic Music Industry Photographs
It was not by coincidence that Phillip Rauls journey through Pop Culture was with his camera in hand. That adventurous trip was captured on film to preserve the events and share with others.
A lifetime of photographs and memories are carefully documented throughout this website's Photo Pages. This collection was years in the making with hope the website's credentials and photographs would be acknowledged for it's archived contribution. This website is a cyber presentation to honor and spotlight all the talented people who have worked with Phillip Rauls down through the years and made this photo journal possible. Great effort was made towards the accuracy of all the listed participants. Thank you for visiting. Property of Rauls Media LLC. Copyrighted (c) material 2006. All Rights Reserved. Reproduction of photographs or content prohibitied.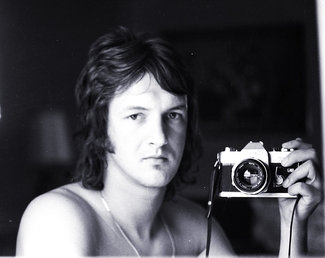 PICTURED BELOW IS THE PRESENTATION OF PHILLIP RAULS RECEIVING HIS FIRST GOLD RECORD AWARD FOR THE MARKETING OF STAX RECORDS, "HOT BUTTERED SOUL" BY ISAAC HAYES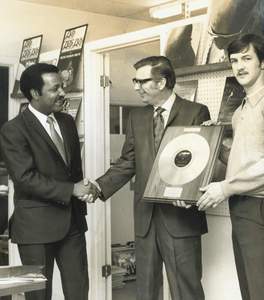 STAX Records Benard Roberson presents the Gold Record Award of "Hot Buttered Soul" by Issac Hayes to Jim Crudgington and Phillip Rauls in 1969. Hayes' album of one of the premier releases in STAX's famous 27 album release schedule that was created to establish the label's instant catalog. Phillip Rauls was the STAX Records local promo manager for the Mid-South region and responsible for radio airplay and record distribution.
PHILLIP RAULS AT ENTRANCE OF STAX RECORDS - MEMPHIS, TN
STAX Records was rich with talent and located in the heart and soul of Memphis. It's open door policies encouraged musicians to frequent there. When not on tour many of the STAX artists would hang around the administrative offices and fraternize with the staff. It was truly a family atmosphere.
THE MAR-KEYS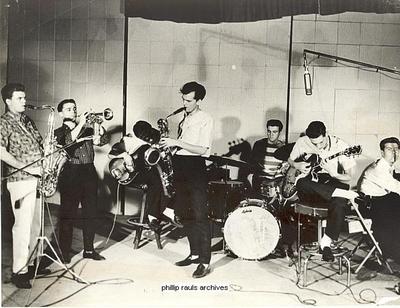 One of the first monster hits out of Memphis in the 60's was The Mar-Keys sexy instrumental titled "Last Night." The song was released on Satellite Records, a Memphis-based record company which would change it's name to STAX Records. The Mar-Keys later splintered into two seperate groups, Booker T. & The MG's and The Memphis Horns. Together both bands became the bedrock of the famous Memphis Sound. Can you name the individual members?
Photo from Phillip Rauls Archives All Rights Reserved Duplication Prohibited
GOLD RECORD PRESENTATION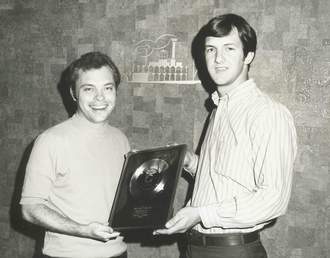 WMC-FM 100's Program Director Mike Powell and Record Promoter Phillip Rauls share a moment to bask in the glory of a million seller. The gold record being awarded was "Good Morning Starshine" by Oliver on Jubilee Records. Powell had the gifted ears to select the perfect blend of music for the airwaves. He also recognizied creative air talent and hired DJ's with select intuitive.
THE GENTRYS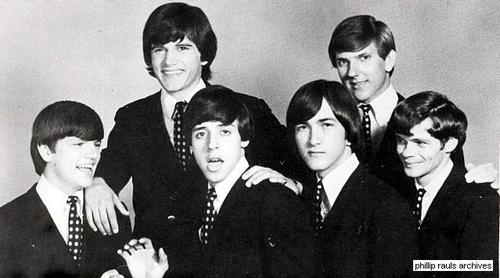 MGM Recording artists The Gentrys scored big with their hit single "Keep On Dancing" produced by legendary record producer Chips Moman. Led by vocalist Larry Raspberry (L), the groups million selling record peaked on Billboard's Hot 100 Singles Chart at # 3. Phillip Rauls served as the Road Manager to The Gentrys as they toured extensively through the U.S. Band members included; (L-R) Larry Raspberry, Larry Wall, Jimmy Hart, Bruce Bowles, Bobby Fisher and Pat Neal.
THREE AMAGIOS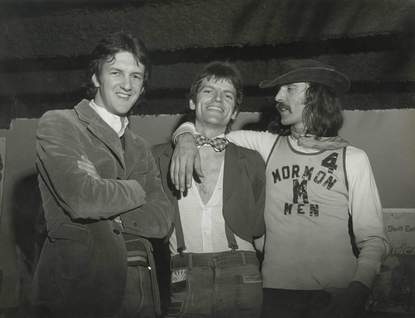 Phillip Rauls poses for a press shot with former Gentrys' vocalist Larry Raspberry who released an album on STAX (Enterprise) Records titled "Highstepping and Fancy Dancing." Raspberry's album was produced by multi-talented member of The Mar-Keys Don Nix pictured on right. Indivdually and collectively, this talented trio was a integral part of the Memphis Music landscape for over three decades.
Additional archive photos (c) are displayed throughout this website. Content Protected.
All inquires for Image Licensing available through info@philliprauls.com Copyright (c) 2006-2023 Rauls Media LLC All Rights Reserved Duplication Prohibited