DJ's were Pied-Pipers of the Youth Movement
Photo 4 Page reveals; "Radio announcers and recording artists were my closest friends. My co-existence within that enviroment sandwiched me in the middle of always lobbying for a cause. New released songs and playlist additions kept my head spinning. Now I can look back and truly embelish those great times. Perhaps the song, 'Life in the Fast Lane' best describes that memorable period." says Phillip.
"In the early days we seemed to be flying by the seat of our pants and made choices about the airing of music on the radio with spontaneous gut decisions." says Phillip. "Times were moving so fast that nobody was really thinking that people were paying serious attention and we might be leaving musicial footprints behind."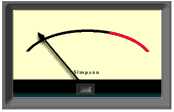 FM Radio Guru Lee Abrams, Phillip and Robert W. Walker
Lee Abrams (L) was the artichect of an industry wide revolution that formatted radio stations into playing albums tracks rather than singles. Robert W. Walker (R) streamlined the Top 40 and Contempoary Hits format with his blend of Dance and Beat Music. Abrams of the renouned Burkart-Abrams Consultants and Rob Walker of Miami's WMYQ Radio are pictured here at Phillip's residense in Coral Gables, Fla. nursing a bottle of Tequilia.
Bill Thomas at WHHM in Millington, TN
Concert promoter, Disk Jockey, Program Director and General Manager were the many hats worn by Bill Thomas. As an early influence upon Phillip's career, Thomas programmed and managed several of the industry's giants such as WDIA in Memphis and WNOE in New Orleans.
Best Friends ~ Front Porch DJ's
It's not often that your immediate circle of friends who are all DJ's and newscasters gather at your house to view a major sporting event on TV. But on this occasion the party was well attended. (L-R) Phillip Rauls, Clarence Johnson, Ron Michaels, Ron Olsen and kneeling is Steve Conley.
WMC-FM Radio's Birthday Rembered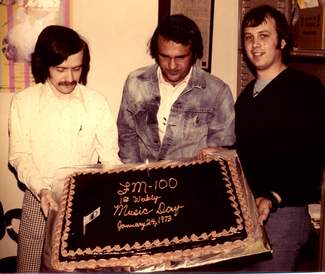 Here record executive John King of Ardent Records (center) presents Music Director Ron Michaels and Program Director Greg Hamilton with a celebrative birthday cake and also to commemorate the stations successful ratings.
WRNO-FM Radio in New Orleans interviews YES's Rick Wakeman
Pictured here during a radio interview is WRNO's Hugh Dillard, Atlantic's Phillip Rauls, YES's Rick Wakeman and manager Brian Lane. Said one broadcaster about his promo rep, "Phillip wasn't one who reinvented the wheel but unlike his fellow collegues from other record compaines, he regliously paraded his artist by the radio station for interviews and to meet the jocks." quoted broadcast industry executive E. Alvin Davis.
Reunion at The Peabody Hotel in Memphis
Here attending a Music Seminar at the historic Peabody Hotel in Memphis is a reunion of friends; (L-R) Steve Conley, Program Director of WMC-FM Radio, Dick Williams, V.P.of EMI Records, Phillip Rauls, and Jon Scott, Radio & Music Indusry Executive.
Long time friends developed after years of communicating within the Radio and Records industry network.
Copyright (c) 2005-2021 Rauls Media LLC All Rights Reserved Duplication Prohibited